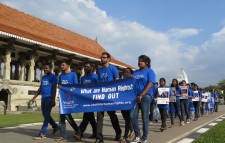 Student advocacy group Team 29 Responsibility joins Youth for Human Rights International for Sri Lanka's first "Walk for Human Rights" to promote human rights awareness in an era of renewed hope for the future of the country.
Colombo, Sri Lanka, February 2, 2017 (Newswire.com) - ​​Students from Team 29 Responsibility and Youth for Human Rights International organized Sri Lanka's first Human Rights Walk to help the country move toward unity by raising awareness of the United Nations Universal Declaration of Human Rights (UDHR). They traveled the 3km route from Green Path Town Hall to Independence Square in the capital city of Colombo, carrying Youth for Human Rights banners and placards promoting the 30 articles of the UDHR.
"Though we hear of 'human rights' regularly in the news, most people can't even define what they are," says Rihan Ahmed, university student and coordinator of the walk. "We decided to bring together youth for a Walk for Human Rights to bring awareness to the people of Sri Lanka on the inalienable rights that they have."
Through human rights education, the students plan to support Sri Lanka President Maithripala Sirisena's human rights platform. By promoting the UDHR, they are backing the progress made since he took office in 2015, resulting in the European Commission announcement of planned economic incentives for the country.
The Commission's decision relates to human rights. 2009 saw the end of 26 years of Sri Lanka's brutal civil war that killed as many as 100,000 people of a population of 20 million. These were years marked by acts of terrorism, abductions and extrajudicial executions. But after the war, with reports of continued human rights abuse, in 2010 the EU put pressure on the country to reform by imposing tariffs. The Commission reversed this position January 11, 2017, with its announced intention to remove a significant part of the European Union's remaining import duties on Sri Lankan products.
In its press release the Commission presents its rationale for recommending the European Union reinstate financial incentives for the country: "In 2015, the new government of Sri Lanka set out a path of major reforms aiming for national reconciliation, respect of human rights, the rule of law and good governance principles, as well as sustainable economic development."
Team 29 Responsibility takes its name from the Youth for Human Rights public service announcement depicting Article 29 of the Universal Declaration of Human Rights—that everyone is responsible for defending these rights.
Youth for Human Rights International (YHRI) is a nonprofit organization founded in 2001. Its purpose is to inspire youth to become advocates for tolerance and peace through education on the Universal Declaration of Human Rights. YHRI educational materials are translated into 27 languages, bringing the message of human rights to 195 nations. www.youthforhumanrights.org
Source: Youth for Human Rights International
Share: