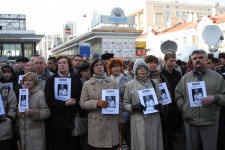 Raising awareness of a human rights crisis affecting freedom of the press
LOS ANGELES, May 30, 2019 (Newswire.com) - ​Youth for Human Rights International announces its association with the multimedia production Dying for Our Voices, a theater production that focuses on threats to freedom of expression in today's world. Every year, hundreds of journalists are attacked, imprisoned or killed. This presentation raises awareness about this urgent international human rights crisis.
Five performances of Dying for Our Voices will be held at Studio/Stage as part of the Hollywood Fringe Festival this June. Producer and director Raven Kras says, "As a friend and supporter of Youth for Human Rights, I wanted YHRI to have a part in this event because of their commitment with youth. Threats to freedom of the press and other forms of expression are a huge problem around the world. These freedoms lie at the heart of democracy. With human rights education, we can help these freedoms develop in places where they are often infringed and help preserve them where they are well recognized."
A brief YHRI video will be shown at the beginning of each performance. The group's educational materials on human rights will be available free of charge for those attending Dying for Our Voices.
As companion events to the theater production, Andromeda Edison, president of the Southern California chapter of YHRI, will conduct two free interactive workshops on human rights at Epiphany Space in Hollywood. Those attending will explore the 30 principles enshrined in the Universal Declaration of Human Rights, learn how to teach these rights, and receive complementary sets of educational materials to bring these rights to life for others individually or in classes or seminars.
YHR will also lead a panel discussion Saturday, June 22, from 3:30 to 4:30 p.m., following the second workshop, in coordination with Committee to Protect Journalists (CPJ), an independent nonprofit organization that promotes press freedom worldwide and defends the right of journalists to report the news safely and without fear of reprisal.
The panel will focus on violations of press freedom around the world and what can be done about it. CPJ, recently published the book The Last Column, featuring 24 final works of journalists killed in the service of newsgathering, including Daniel Pearl of The Wall Street Journal, Marie Colvin of The Sunday Times of London, and Jamal Khashoggi of The Washington Post.
Dying for Our Voices will be performed at Studio/Stage, 520 North Western Avenue, Friday, June 7, at 8:30 p.m. (preview), Saturday, June 15, at 12 p.m. Monday, June 17, at 10 p.m. Sunday, June 23, at 11:30 p.m., with the final performance Saturday, June 29, at 8:00 p.m., followed by a 30-minute Q&A.
The Human Rights workshops and panel will be held at Epiphany Space at 1763 North Gower in Hollywood on Saturday, June 15, and Saturday, June 22, from 2 to 3 p.m. The panel discussion is June 22, from 3:30 to 4:30 p.m.
Visit the Hollywood Fringe website for general and ticketing information about Dying for Our Voices or information about the Youth for Human Rights panels and workshops.
Youth for Human Rights International (www.YouthForHumanRights.org) is a non-profit organization with the purpose of teaching young people human rights to encourage them to become advocates for peace and tolerance. YHR educational materials have been translated into 27 languages. The group's annual youth summits, attended by young human rights leaders from across the globe, are held at United Nations headquarters in New York. A Video of the opening day of the 2018 Human Rights Summit is available on the UN website.
Source: Youth for Human Rights
Share: