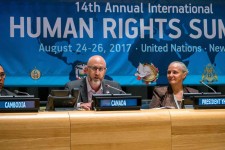 Selected for their accomplishments in the field of human rights, 66 young men and women participated in the 14th annual Human Rights Summit of Youth for Human Rights International, held at the United Nations in New York.
New York City, New York, October 26, 2017 (Newswire.com) - 66 young human rights activists representing 42 nations traveled to the United Nations Aug. 24 to attend the 14th annual Human Rights Summit, organized by Youth for Human Rights International. The program brought together these young men and women with human rights activists of all ages, beliefs and backgrounds to review and work out strategies to tackle the most pressing human rights issues that confront the world today, from human trafficking to child sacrifice, poverty to the refugee crisis, and the urgent need to protect and ensure the right to education, freedom of expression and belief.
Master of ceremonies for the Summit was Dr. Mary Shuttleworth, President of Youth for Human Rights International. The program began with a series of panel discussions. She introduced the panelists who addressed important aspects of the state of human rights and human rights education: Summit sponsor, Ambassador Laura Flores, Permanent Representative of Panama to the United Nations; co-sponsor Ambassador Ry Tuy, Permanent Mission of the Kingdom of Cambodia to the United Nations; Ambassador Mahmoud Saikal, Permanent Representative of the Islamic Republic of Afghanistan to the United Nations; Ambassador Michael Grant, Deputy Permanent Representative of Canada to the United Nations; and Nobel Laureate and former President of Costa Rica, Dr. Oscar Arias Sánchez.
Dr. Shuttleworth presented Dr. Arias Sánchez with a special acknowledgment for his contributions to human rights internationally.
Mr. Fabio Amicarelli, Director of Humanitarian Programs of the Church of Scientology International, gave concluding remarks on behalf of his office, which has co-sponsored the Summit since its inception.
Among the 360 attendees were ambassadors and other representatives of the permanent missions to the UN including Afghanistan, Bangladesh, Bahrain, Canada, Cuba, Cyprus, Equatorial Guinea, France, Ghana, Ireland, Italy, Mexico, Myanmar, Nepal, Pakistan, Panama, Romania, Sri Lanka, and Turkey.
Delegates were selected from among hundreds of young men and women who applied, based on their outstanding accomplishments in raising awareness of human rights. Among them:
Representing Albania, a young woman who helps companies integrate human rights and sustainability into their businesses. To build empathy and compassion, she recently completed a 45-page study on how and why companies should hire refugees and is developing a virtual reality simulation of a refugee's journey from Syria to Germany.
Representing Costa Rica, a young man who advocates for health care for children. In his country, youth age 13 are no longer considered children and are denied care. He was made aware of this problem by the death of a friend from bone cancer who might have survived if he had received the care he needed.
Representing Syria, a stateless Syrian-Palestinian refugee living in Dallas, Texas. Having experienced and witnessed the horrors of human right violations and escaped, she advocates for human rights, partnering with NGOs in her community. She has interned with Amnesty International raising awareness of the plight of women and refugees. Using the Youth for Human Rights program, she has educated schoolchildren in Washington, D.C., and Texas on the Universal Declaration of Human Rights.
From the United Kingdom, a young woman who founded a social enterprise platform that runs creative art workshops to engage young people in exploring and understanding their human rights. She explained the reason she started this program: "Because I'm the first generation in my family to not go through female genital mutilation. Instead of feeling sorry for other women, I felt that it is my duty to take action and speak up for the 27.2 million women who weren't as lucky as me, including my childhood best friend."
From the United States, a young Sikh woman. When she was 13, a note was left on her desk telling her to go back to her country. This was particularly bitter and ironic because she is the daughter of the U.S. Army's highest-ranking turban-wearing officer. She saw her father fight for years to keep his distinct identity while serving his country. "These experiences have led me to be a strong advocate in my community for the Sikh faith," she said, "as well as issues such as anti-bullying, racial issues, and poverty."
On the second day of the Summit, also hosted by the UN, two panels presented important human rights issues to the youth delegates and those attending.
The emphasis of the first panel was human trafficking. According to the U.S. State Department, 600,000 to 800,000 people are trafficked across international borders every year, of whom 80 percent are female and half are children.
The panel featured Ms. Marisol Nichols, actor and founder of Slavery Free World, who presented a film of her undercover work to expose human trafficking. Ms. Nancy Rivard, president of Airline Ambassadors International, spoke of educating flight attendants to spot and prevent trafficking. Ms. Rosi Orozco, president of the nongovernmental Commission United Against Human Trafficking, screened a video on the plight of trafficking victims. And a human trafficking survivor brought the subject home with her own moving story.
There was also a presentation by Carlyle Holder, immediate past president of the National Association of Blacks in Criminal Justice, and Somoly Heng with the Ministry of Foreign Affairs and International Cooperation of Cambodia.
The second panel of the day included Bryant McGill, author, activist, and social entrepreneur; Christopher Ahearn, Director of Partnerships at Reach the World; and Kerri Kasem, radio and TV host, activist and founder of Kasem Cares.
Youth delegates and guests were welcomed to day three of the Summit at the Church of Scientology Harlem Community Center by a representative of Queen Mother Dr. Delois Blakey, the unofficial Mayor of Harlem. There were performances by local artists, Miss New York 2016 Camille Sims, and Wil Seabrook, founder of Rock for Human Rights.
Youth delegates and directors of Youth for Human Rights chapters from the Congo, Nepal, Taiwan, and Venezuela made presentations on their activities. Youth delegates exchanged information on their successful actions and networked on resources others can use to accomplish their programs. There were also workshops and training sessions on skills to help the delegates become even more confident and effective in their activities.
The final activity included practical application of human rights education with teams of youth delegates reaching out to people in Harlem, at the Metropolitan Museum of Art on the Upper East Side of Manhattan, in Central Park, Grand Central Station and Times Square. Bringing along ample copies of the Youth for Human Rights booklet What Are Human Rights? they "read them their rights"—the 30 rights enshrined in the Universal Declaration of Human Rights.
Youth delegates returned home equipped with the tools they need to accomplish their human rights plans for their zones.
For more information, visit Youth for Human Rights International.
Source: Youth for Human Rights International
Share: